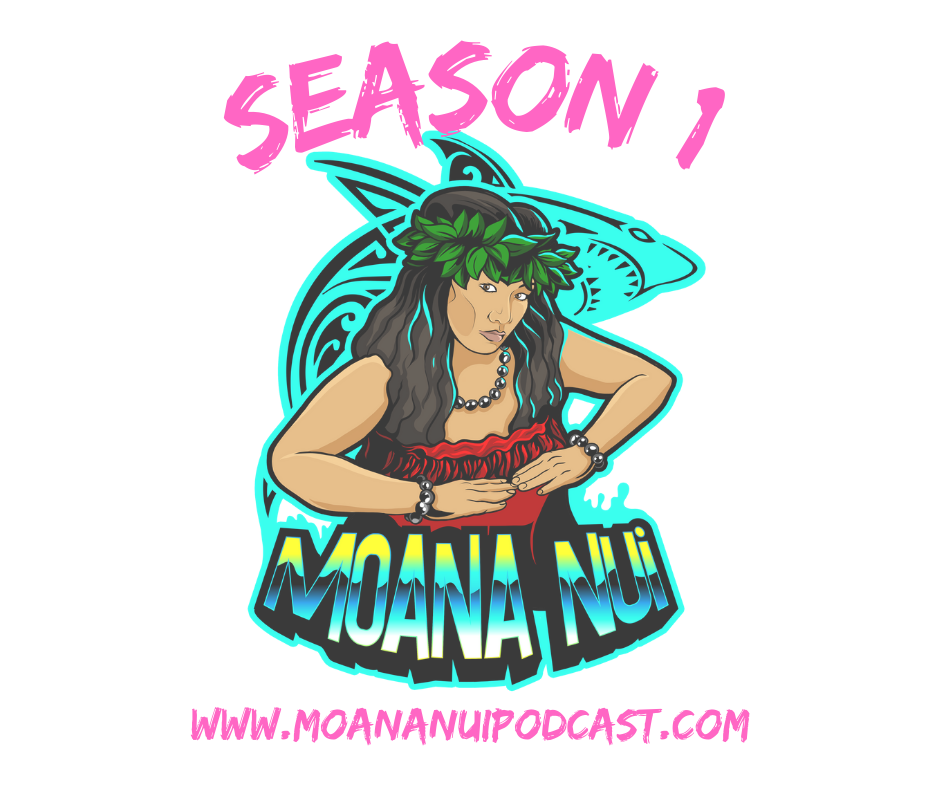 Moana Nui Podcast
Moana Nui Season 1
 A storytelling podcast celebrating indigenous history, culture, perspectives, and creatives.
Enjoy the Moana Nui Podcast Season 1 lineup on your very own Moana Nui USB lanyard.
Season Lineup 
Allen Carter - Damn Tourists, Cosmic Force. He is an artist, writer, promoter, and the sole creator of two independent comics titles called Damn Tourists and Cosmic Force. He lives in Los Angeles, but is originally from Hawaiʻi. Allen tells us how his favorite childhood cartoons inspired him to create words of his own that were inspired by his special places in Hawaiʻi. Allen also shares his thoughts on the Black Lives Matter Movement and how we can be good allies to the people and the cause. 
Alika Seki is the owner and operator of Maui Comics. He talks with us about the importance of serving your community, particularly in challenging times like what the world is experiencing with COIVD. Alika is a champion for the people of Hawaii and the work ethic many natives possess to thrive and survive the high costs of paradise.
Alika Naihe is an artist, game designer, educator, and owner of Hauʻoli Art. Recreating the Legends of Hawaiʻi. Alika masterfully shares his history and culture by taking images, stories and concepts out of museums and into daily life. His broader work and a coach and mentor for Hawaiʻiʻs teens embodies the spirit of the Moana Nui podcast and our ancestors.
Brian Lambert - Brian Joseph Lambert is the award-winning, lead contributing writer at Wingless Entertainment.  He specializes in bringing diversity to action/adventure, fantasy and sci-fi worlds. When not writing or editing, Brian works on creating a functioning lightsaber, so that he can pass the Jedi Trials.
Chris Koanui is a police officer for the Honolulu Police Department, an artist, colorist, and creator of the Nightmarcher comic book. The Nightmarcher saga begins with a ghost resurrecting a fallen Hawaiian soldier. It's a tale that twists fantasy and Hawaiian mythology with mystery and humor in the setting of modern Oahu.
Crown Shepherd is an emerging fiction, picture book, and comic book writer, and author of Black Boy, Black Boy. Her writing is a result of her surroundings and upbringing. She has always been deeply rooted in literature and writing, but it wasn't until she found more writers that look like her that her writing soared. As someone from an underrepresented community, Crown knows what it means to have representation feed your creativity. The stories she wants to share are aimed at giving a voice to the voiceless.
Dominic Acol is an Oʻahu born, Kona raised artist, woodworker, and owner of Mauloa Haʻawina Designs where he captures the spirit of his familyʻs cherished moments and brings them to life through art. Each handmade piece uniquely depicts the spirit of his ʻohana way of life that bonds the past and future, preserving time until it can be passed down to the next generation.
Dorphise Jean is the writer/creator of Spiritʻs Destiny and owner of Gente Entertainment. She aims to give readers of all ages stories and influences that encourage them to learn more about their cultural roots.
Greg Burnham is an author/writer, editor, publisher, and history buff. Greg has been writing professionally for nearly a decade. He makes up one half of the Tuskegee Heirs duo. With projects like The Search For Sadiqah, Broken Glass and Grandpa's shoes under his belt, Greg recently made the transition to full time writer/publisher. He's currently working on a bevy of projects, as well as the beloved Tuskegee Heirs.
Jon "Free" Isabelo was born and raised on Oʻahu and relocated to Las Vegas where he started a publishing company, Live Free Die Free (LFDF) Comics, to produce creator owned properties, including his own title, The Contraptor.  Free has done multiple covers and internal pages for various independent comic companies including, Onward! Comics (Avenger Red), Self Employed Comics (The Cule), The Squeeg Comics (The Skilled Apprentice), KipsWorld Comics (D'Mitri), and Thunderfrog Studios (Gemini Storm), to name a few.
Lawrence James King is the Strongest Man I Know, CEO and Owner of Constant Hustle Comics, and the writer and creator of the comicsAvery the Amazing and The Last Line. 
Newton Lilavois, a comic book writer and publisher of Dream Fury Comics, was born in Port-au-Prince, Haiti and grew up in Brooklyn, NYC. When Newton is not writing computer code as an IT consultant, he's writing stories for graphic novels and comic books. He currently resides in the Bronx with his wife, two daughters, and their chocolate lab. Newton recently raised over $25K here on Kickstarter for his creator-owned comic Crescent City Monsters.
Patrick Michael Strange does it all. He is the host & executive producer of the weekly YouTube pop culture show,New Release Wednesday. Patrick is also the founder of the charity cosplay organization, CosLove, which promotes self-expression and creativity while supporting communities via family events and regular visits to schools and hospitals nationwide.
Taylor "TJ" Sterling was born in Grand Rapids, Michigan. At an early age he displayed a very keen and almost prodigious talent for art. In the late 1980's, TJ took a serious interest in drawing comic books and superheroes. After graduating college, working at Marvel and doing some cover work for Dark Horse Comics, TJ started his own company, RAE Comics. TJ recently raised over $20K here on Kickstarter for his flagship book, OKEMUS.
---
More from this collection