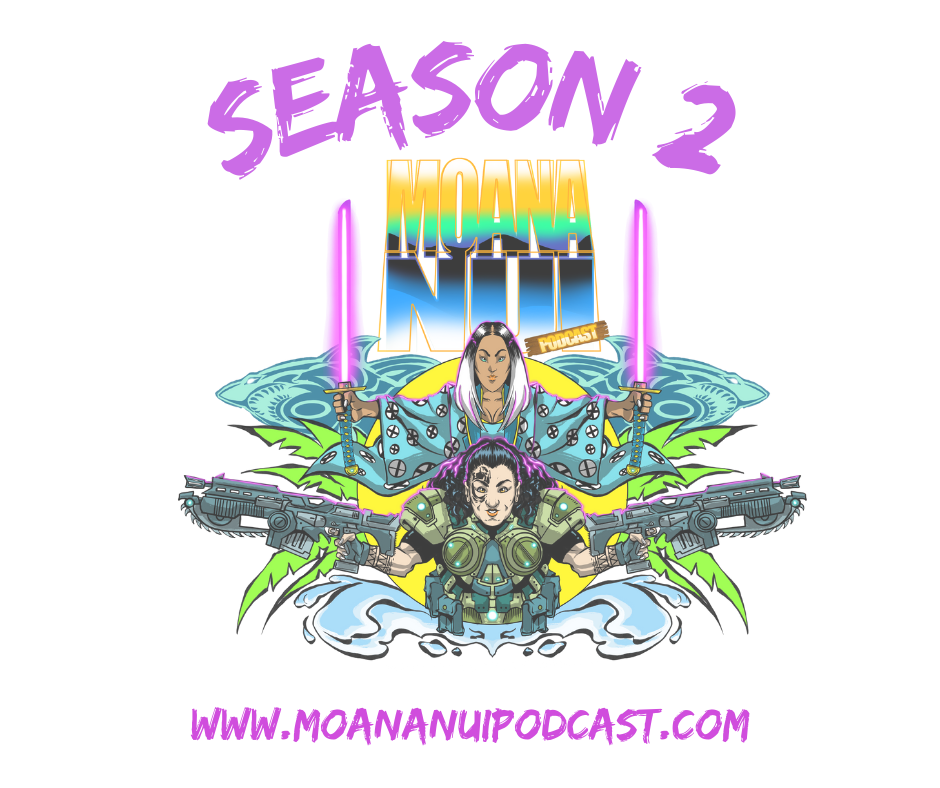 Moana Nui Podcast
Moana Nui Season 2
A storytelling podcast celebrating indigenous history, culture, perspectives, and creatives.
Enjoy the Moana Nui Podcast Season 2 lineup on your very own Moana Nui USB lanyard.
Season Lineup 
Afua Richardson is an African/Indigenous American Comic Book Artist and Illustrator, best known for her work on Eisner award-winning series, Black Panther World of Wankanda and HBO's Lovecraft Country.  She talks with us about her love for comics and music along with her undergrad at Juliard.  Afua takes us on an adventure through her 15 year creative journey as she finds herself in a space where she can finally be her best, authentic self while sharing her passion with the world. 
Alan Z is a triple threat within the entertainment industry with him carving his own lane as a versatile artist that raps and sings to bring more diversity within the music and acting industry. With his music featured on series like Netflix's Wu Assassins, Alan Z is planning to continue his platform to bring attention to social issues, bring diversity to the entertainment industry, and support other upcoming Asian and Pacific Islander artists.
Barr Foxx is the founder of Cosplay Your Way, a cosplay artist, and television/film producer who has been featured in variety of articles, books, and videos.  As a seasoned panelist, Barr Foxx has presented panels at DragonCon, New York Comic Con, MomoCon, BlerDCon, and HavenCon to name a few.  His mission is to create a safe haven for all who desire to cosplay regardless of race, age, sex, size, or ability.  
CC the Geek is an entrepreneur, philanthropist, and cosplayer from Washington, D.C..  Her activism has shine brightly with her efforts with Hurricane Katrina relief, founding the Alternative Spring Break program at Bowie State University, and using her platform to create safe spaces for Black and other marginalized cosplayers. CC guides us through her background that lead her to activism but also founding HBCU Con, a space that celebrates the influence and intersections of historically Black institutions and the geek community.

Christian Oh is an academic, social media guru, event producer, filmmaker and talent manager who has been active in the Asian American community across the U.S. for 17 years. He currently chairs the board of the DC Shorts International Film Festival and is President/Executive Director of the DC Asian Pacific Film Festival. He has produced and directed many award-winning shorts, music videos, commercials, and public service announcements.
David Crownson is the CEO and Founder of Kingwood Comics. Born and raised in the exotic town of Frenchtown, New Jersey with Ghanaian roots, David Crownson is the Creator / Writer of Harriet Tubman : Demon Slayer. He is also an actor & filmmaker developing the upcoming web series Black Irish for YouTube Red.  Learn how David is slaying his demons in 2021 and his upcoming projects!
Davie Celeste is an artist, educator, entrepreneur, and healer. Her passions include writing, education, experimenting with music, storytelling, reading young adult novels, and finding new ways to be creative. She currently resides in Hawaii where continues her work in Education and the Creative Arts.  Davie is a firm believer in the idea that all education is special education, and is passionate about helping students learn how they learn.
Dedren Snead is the creator/ writer of the Glyph Comics Award-nominated comic book series, Sorghum and Spear, and creator-writer of the upcoming Turnkey comic book series. He is a writer, content creator, and being both a Futurist and Retroist, his mind wanders throughout the space-time continuum, with at 10 year +/- around 1993 as the focal point of his many fandoms. He is the co-host of the New Wakanda podcast and head writer at RAZRWING, Inc.
Glenn Lawrence brings a unique perspective to comedy. His quick witted style quirky point of view has allowed to grace stages all over the country from California to D.C. in addition to being a seasoned performer Glenn also produces both content via his LevelUp Comedy YouTube channel and various podcasts in the DC area including My Fantasy Wife with Comedienne Blair Postman. Glenn has performed all over the country including The Sundance Film Festival 2019 and hosted and featured with comedians like Tony Rock, Paris Sashay, Rob Maher, Rahmein Mostafavi and Franqi French.
jason chu is on a mission to speak hope and healing in a broken world by blending introspective lyricism with high energy bangers and thoughtfully crafted spoken word poetry.  Jason's music has been heard on Wu-Assassins (Netflix) and Warrior, seasons 1-2 (Cinemax). He has shared poetry for the Obama administration at White House, been featured in the Chinese American Museum of Los Angeles, and presented at the Getty Center, Flushing Town Hall (with Joe Kye), the Nate Holden Performing Arts Center (alongside Clairobscur Dance), and the Museum of Chinese in America. He tours extensively, with hundreds of shows across the US and worldwide. As an expert on Asian American identity and hip-hop culture, Jason has spoken and led workshops at UPenn, Dragon*Con, ArtCenter, Stanford, NYU, Yale, and beyond. He is a contributor to the St. James Encyclopedia of Hip Hop Culture.

Javier Winnik began his career selling his drawings at comic cons and landed an opportunity to do sketchcards for UpperDeck! Seeing no stories about Puerto Ricans in the school he worked at, he self-published a book, titled "A Reason to Smile!" which stars a little Puerto Rican girl from NYC, showing the positive side of Puerto Ricans in Pop Culture. He's since created 3 books with 2 on the way, all funded on Kickstarter, and has gone on to sell over 3,000 copies! He has since created stories for Puerto Rico Strong (LionForge) and Ricanstruction (Somos Arte/DC).
Lashawn Colvin is the editor and creator of Beautiful Soldiers, her comic career started in early 2014. As a graphics illustrator, editor, writer and now comic book store owner. The first black woman to own a comic book store in the south! Lashawn Colvin began her art journey at a very young age, however, there was another gift she found herself having. Writing. Her passion for writing and creating stories goes very deep, as a child she drew inspiration for creating stories from one of her favorite child hood tv shows.
Michael Watson is an a comic book artist/creator for Freestyle Komics hailing from Cleveland, Oh. He have been working in the comic field since 2005 beginning with his own publishing house Freestyle Komics. He created and draw the comic series Hotshot (Nominated Best Indie Ongoing Series 2006), and have worked on Zulu, a graphic novel. IHe is also an Editor/Creator over three new comic books; Vigilance, Heroes International, and Emerald Quest. He have been published in the Columbus Alive, also illustrated a cover for them, and published on Afropunk.com. 
Mog Park is an up and coming traditional artist, from Academy of Art University in San Francisco. She found herself working shortly after with Tokyo Pop on a few projects. Although none were ever published, she acquired a wealth of knowledge that allowed her to attain other assignments that eventually led to working on HBO's Game of Thrones series. You can find her work on the Blu Ray editions of Game of Thrones Season 3 and 4.
Roye Okupe does it all. He is the host & executive producer of the weekly YouTube pop culture show,New Release Wednesday. Patrick is also the founder of the charity cosplay organization, CosLove, which promotes self-expression and creativity while supporting communities via family events and regular visits to schools and hospitals nationwide.
Sebastian Jones is an incubator and aggregator of content, developing and designing franchises for multi-media platforms. From the vast and volatile fantasy world of Asunda to the wide-eyed whimsy of Stranger Kids, Stranger strives for excellence in production as well as presentation. Aided by VP Entertainment Mimi DiTrani, CCO Darrell May, and EIC Joshua Cozine, its constant philosophy is that representation in quality products matters.
---
More from this collection